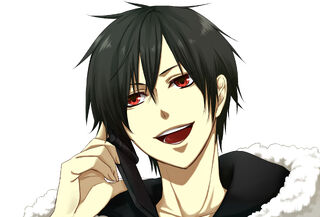 Lionardo Orihara Leader of B.O.N.E.S
Edit
Eye color: Red
HQ Name: Vann
Background: Lionardo being Izaya's child was rich, he was able to get what he want like being trained in martial art and different Weapon styles. When Lionardo was 15 he started to take in Izaya's personality and wanted to control Tokyo, in which he created B.O.N.E.S a organization full of assassins that had the same amout of training as him.
Weapons and Abilities
Edit
Weapons:Guns, Swords, and Manipulation.
Flexible: Extremely fast and Flexible.
Tech Savy: Lionardo can hack into anything he needs, which makes him a Information Broker for B.O.N.E.S.
Cheater: A special power that Lionardo has that lets him pin point Weak Spots.