Tobi ShodaEdit
Age:18
Gender: Male
E/C: Aqua
H/C: Black
Race: Human
-Tobi is a famous singer.
Appearance:
Edit
He has short rugged black hair that reaches a bit after his ears and aqua eyes.He usually always wears his glasses, but when performing he takes them off and puts in contacts. What he wears....well like everyone else they change into different clothing, but...he will mostly wear just a t-shirt and some ragged old jeans.
Personality:
Edit
Tobi's personality is strange. He is pretty much always happy, stupid and making a funny joke here in there. But around his manager he becomes braty, childish, (more) stupid, and bashful. He's a strange kid with a weird behavior.
Likes/Dislikes:
Edit
Likes
Sweets
Cats
Teddy bears
Music
Singing (I guess)
Sleeping
Romance manga
Dislikes
Seiji (well....sometimes)
Being alone
Sour stuff
Crazed fangirls
Seiji Yasurjiro
Edit
Age:21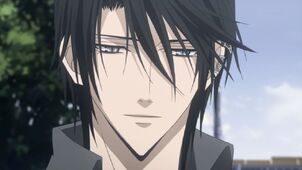 Gender: Male
E/C: Gray
H/C: Black
Job: Manager for Tobi~
Race: Human
Appearance:
Edit
Okay, seiji is a tall strong adult with Black hair and gray eyes. What he mostly wears are suits, or some kind of casual shirt and regualr dress pants or jeans. His left ear is pierced with a few earrings..so yeah.
Personality:
Edit
Seiji is kinda short tempered. He can be very vicious at times and mean with a hint of caring. He's more angry when he has to deal with Tobi's stupidity and rebellion to work. Seiji though does have a sweet side, he can be nice, loveable~
Likes/Dislikes:
Edit
Likes
Relaxing
Horror novels
All genres for movies
Dubstep
Coffee
Dislikes
Crazed fangirls
Sweets
Tobi (sometimes)